There have been claims that Jimi's Strats were notched around the 14th fret for the intro to Foxy lady at West Coast amps, and that the white one was notched before woodstock. I have proven this wrong in several ways. 1st a picture of the strat in Jimi's hands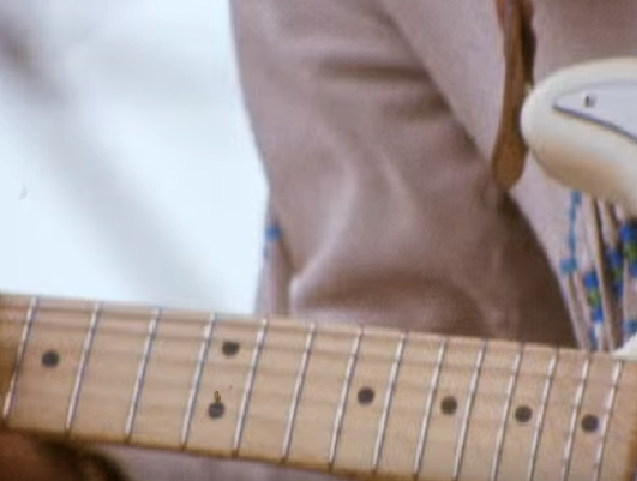 Next a message from the man who examined it with it in Mitch Mitchells possion where it had been since he was given it by Hendrix and writing a article about it and a quote from yngwie308
http://www.musicradar.com/news/guitars/ ... rat-178118
Xplorer wrote:

yngwie308 wrote:I have met Mike Eldred and he is quite smart and would have thought to save Jimi's strings when they were taken off,also the strings can be removed without cutting.
As far as I can remember the Strat that Mike is holding is the Woodstock Strat the NAMM show display featured the replicas and the original.
Cheers
yngwie308

Yngwie, you're right, i mean, mike eldredd didn't cut the strings, but someone else did ! Neville Marten ...

"The strings were indeed rusty and the frets had gone a bit green. Interestingly, the spotted cat-fur strap (ocelot, I think – very non-PC today) was still in place. We later checked clutches of spots on the unfortunate feline's hide against photos of Jimi, and it was clearly one and the same.
Why didn't I keep the strings?
Taking the guitar to my workbench I checked the neck for straightness and it needed a slight tweak of the truss rod. That done, I cut off the strings and threw them in the bin. Isn't hindsight a wonderful thing? Today they alone would probably be worth £50,000 (with Jimi's DNA all over them)!

Having cleaned the whole guitar and polished the frets the next step was to restring it and set the action. It was weird to realise that the last person to do this might well have been Hendrix himself, as there are well-known photos of him doing it backstage before a gig.

I threaded each string through the guitar's tremolo block, over the individual saddles, up over the reversed nut and onto the 'F'-stamped Kluson tuners. It didn't need a lot more doing to it, but I tweaked the saddle heights, made minor intonation and pickup adjustments and that was it.

I did plug it in to an amp, but as I am right-handed and it was strung upside-down, a quick Little Wing was out of the question so I simply played a few notes to check that the electrics worked."

from here :

http://www.musicradar.com/news/guitars/ ... rat-178118
Since there was still disbelief I sent him (Neville Martin) a message on facebook asking him about the notches
Here is the message i sent
"Hi can i ask are you the guy that examined Jimi Hendrix's white strat. There is a big question going around of people saying it had a notch in the frets around the14-16 fret for the intro to Foxy lady. is this true. It says in a article you polished the frets. Did you mill them possibly taking out a notch or simply polish them"

Here is his response NO NOTCHES
"Yes I did, when I worked as Fender's UK guitar repairer. I've never heard anything about a 'notch' (don't really know what you mean). I did a light set-up on the guitar - action, restring and so on - but the frets only needed cleaning as they'd tarnished after two decades in a case under Mitch Mitchell's bed. It was the 'Woodstock' Strat but other than that was fairly unremarkable as a guitar (and other than the fact that Jimi played it!)..


Cheers
Neville."
I then ask him
"Thanks so you saying the frets did not have a grove in them around the 14-16 fret.. That they were realy not worn a lot and only needed polishing the tarnish off not any kind of level or milling. Thanks"
his Response was
"No the frets were fine. No dressing. Just a polish and clean up. I don't recall any groove,"

Now that i have disproved the fret story we need to really question every thing posted about the amps and west coast.