According to several sources, Yngwie used a Tom Scholz Rockman headphone amp to record the demos (according to a recent YouTube comment made by Gary Shea they are actually rehearsal tapes) for No Parole from Rock 'n' Roll. According to several other sources, he also used FS-1s at the time.
https://youtu.be/NhTPn-Q5M_E?t=6m
(Starcarr Lane demo intro)
https://youtu.be/CuNdWc2LLJM?t=1m19s
(Rockman demo for comparison)
You can hear that Rockman sound there for sure. Sometimes I wonder whether he recorded the album, or parts of it, with the Rockman as well. It certainly sounds different to me, particularly the rhythm guitars. In any case, he must have either used a certain version of the original Rockman or Ultralight model since the album came out in 1983 while the other Rockman headphone amp models came out later on in 1984.
Here's an interesting site featuring tons of information on the Tom Scholz equipment:
http://www.rockman.fr/
http://www.rockman.fr/Reviews/Rockman.htm
chrisb wrote:I have always loved the sound he got on the two early live videos 84 and 85 and I know common thought is he had moved to the hs3 by then but I am not so sure. I am ready to be told I am wrong

but I am starting to think at least the duck didn't get the hs3's for longer than thought. Firstly because I have both pickups and after swapping them back and forth for ages I think the FS1 just sounds closer in attack and clarity to the early sound and also is just a little less stringy sounding.

Also, he recorded No Parole, went on tour then recorded Rising Force... would he really change the pickups in all his guitars at once.
Indeed, it seems very likely that he could have still used FS-1s on some guitars in 1984-1985. Here's another close-up of the pickups he used on Metallic Live '84: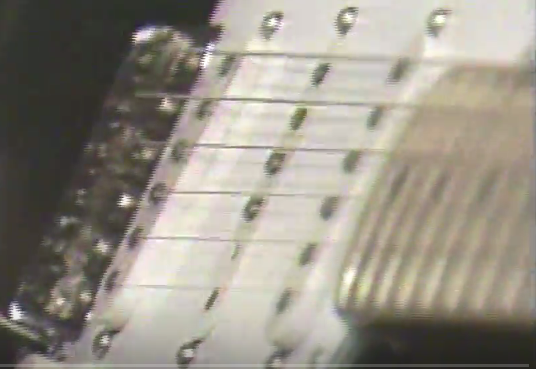 Here's a close-up of the pickguard of one of his strats at the 1985 concert: I could be wrong, but it seems to be a pair of FS-1s with a disconnected middle pickup. The bridge pickup could be something else though due to it being in a different color.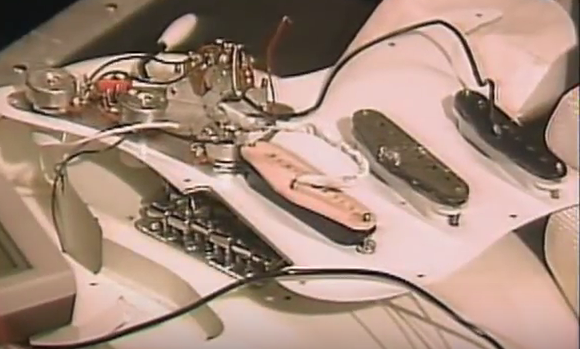 Here's another picture: Notice what seems to be an Ernie Ball .010 plain string lying there on the table.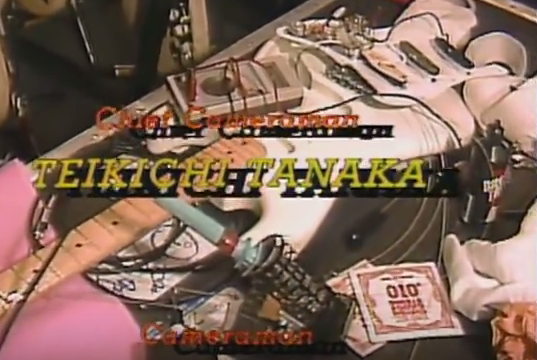 According to some people, Yngwie used 10s before switching over to 08s (the comment below turned out to be slightly incorrect, he was already using 08s early on, but went back and forth between various experimental string gauges).
joncarlos wrote:He used .010s for the first 3 albums and went for the lighter gauge after the accident. I also recall reading an interview on which he gave his main reason for the change. It was something like: "when you're doing those crazy step and a half bends for two hours every night, your callouses just die".
And here's the quote from Yngwie himself (Guitar World Magazine, June 1988):
Yngwie Malmsteen wrote:I use .008's, but the bottom E string is a .046. Everybody who plays my guitar usually goes out of pitch, but I seem to be able to avoid that. I don't need it that light, but I play a lot on tour and I do a lot of real heavy bending; sometimes from the high C# (E string, ninth fret) up to F# (fourteenth fret), stuff like that. I could do it with a .010, which I use sometimes, actually, but after awhile, if you sweat and you do these kinds of bends, your callouses just kind of die.
He claimed to use 10s in an interview from Guitar World (Guitar World Magazine, January 1986).
He apparently used 8-11-14-22-32-44 in 1988 (Guitar Buyer's Guide Magazine 1987-'88) according to his tech at the time, Ian Ferguson. In the same interview, Ian stated that Yngwie used Celestion G12 25-watt speakers.
And in 1995 he used 8-11-14-22-32-46 according to his tech at the time, Peter Rooth (GUITAR SHOP Magazine Vol. 1, No. 4, 1995).
Here's an Ernie Ball ad from 1987 featuring Yngwie with his custom string gauges, 8-11-14-22-32-44. He apparently used a 44 for the low E at the time.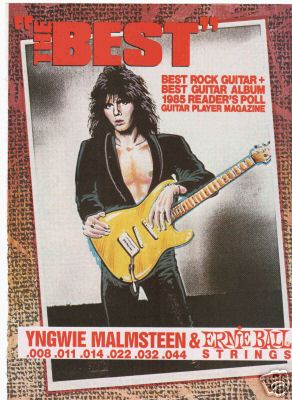 I found some hidden treasures in some old magazine scans (Young Guitar April 1984 issue, Guitar Magazine June 1984 issue and Guitar Magazine interview from January 27th, 1984) from
a Japanese fan-site
. They cover the Metallic Live '84 era extensively.
He apparently used 8-11-14-26-36-46 at the time. Until someone who happens to read Japanese is able to verify which brand he used, we can assume that they would've been Ernie Ball strings since he used Ernie Ball in 1985 and 1987 (it was confirmed later on that he actually used D'Angelico strings at the time). We can also assume that he used these gauges, or very similar ones, when recording No Parole from Rock 'n' Roll and possibly Rising Force as well.
They also show several pictures of his pedalboard, but unfortunately the resolution is too low to make out any of the pedal settings, and since I'm unable to read Japanese I couldn't figure out much else from looking at the text.
Metallic Live '84 was apparently taped at Nakano Sun Plaza in Tokyo on January 28th, 1984, and since the interview was from January 27th, 1984, we can assume that those magazine scans contain everything we need to know from that era regarding the pedal order, etc. He apparently also had 2 single-channel JMP/MK2s (master volume amps?) in addition to his regular 1987s, and the cabinet below one of the single-channel amps was mic'ed up. However, it seems that the amps were for show only since they seemed to be turned off. It also looked like one of his 1987s had its channels bridged/jumped, but I'm not too sure. One thing that surprised me is that by the end of the Metallic Live '84 show, Yngwie suddenly has a bunch of mini-stacks (according to several YouTube comments, they were Japanese "Madshell" practice amps) lined up on stage in front of his cabinets, probably just for show though. I think they taped 2 shows since
they apparently played twice in 2 days at Nakano Sun Plaza
, and since the Metallic Live '84 gigs were their last shows in Japan in 1984, it would make sense that those magazine scans are from that time.
Yngwie was a big fan of Ritchie Blackmore in his early days so he could have tried to copy or base his setup on Blackmore's setup regarding the string gauge, string action, etc. Apparently Blackmore used 10-11-14-26-36-42. I could be wrong about the following, but I'd say that he probably started out on Blackmore's gauges, then swapped out the 10 for a 08 and the 42 for a 46 in order to make it easier to bend on the high E string and to balance out the tension on the wound strings. After that, he probably went back and forth between 08s and 10s before finally settling on 08s.
He also used to have a lower string action in his early days as well. According to Yngwie's former tech/manager,
Michael A. Spitzer (2000-2001), Yngwie's string action was set to 4/64 (1.6 mm) for the EBGD strings and around 4/64 to 5/64 (2 mm) for the low A and E strings at the 12th-17th fret. Check
this post
for reference.
I updated the equipment settings to take into account the new findings:
Fender/D'Angelico celluloid extra heavy picks (shell or black, rarely white) ->
D'Angelico 8-11-14-26-36-46 (for Metallic Live '84 and possibly No Parole from Rock 'n' Roll and Rising Force as well)
Or: D'Angelico 8-11-14-24-36-46 (from Guitar Player magazine, March 1984)
Or: D'Angelico 8-11-15-26-36-46 (from Guitar World magazine, July 1984, which is approx. around April/May 1984 according to Tone Slinger) ->
DiMarzio HS-3 or FS-1 pickups (pickups close to the strings for most response, and with disconnected tone pots. Middle pickup lowered to pickguard and disconnected) ->
Roland DC-10 (volume input gain maxed out, level at -20dB, low output setting)
Or: Roland DC-10 (volume input gain maxed out, level at -35dB, low output setting)
Or: Roland DC-10 (volume input gain maxed out, level at -20dB, high output setting) ->
Analog Man/Grey DOD 250 (gain maxed out with level at 9 o'clock) ->
Boss CE-1 (level control probably on 5-7, high input setting. Not 100% sure where it's placed in the pedal chain yet, or whether it's placed inside a true bypass looper) ->
2x 1971 big box/head Marshall 1987 (upper left input, might bridge/jump channels on some heads, EL34 or GEC KT77 tubes, might run 2 or more heads with opposite and/or different bass/mid EQ, some heads might be modified) ->
4x 4x12 cabinets loaded with Celestion G12-65 watt speakers (wired in a stereo X pattern where the heads use opposite bottom cabinets. Darker sounding speakers)
According to Yngwie himself, he usually runs his amps "on full-everything except the bass, which is all the way off".
Marching Out rehearsal amp settings (from Guitar Player magazine, May 1985):
Amp 1 (dry)
Volume 1 : 0
Volume 2 : 10 (could be a typo in the magazine as Yngwie usually uses the bright volume 1 channel)
Treble : 10
Middle : 10
Bass : 3
Presence : 5
Amp 2 (wet)
Volume 1 : 0
Volume 2 : 10 (same thing, could be meant for volume 1 instead)
Treble : 10
Middle : 5
Bass : 10
Presence : 5
All EQ settings are the same between heads other than bass and middle.
Edit:
Someone named imoimo (thanks, you're the best!) translated some of the Japanese text from one of the magazine scans for me. Unfortunately it seems that Yngwie didn't state which brand he used other than the gauges he used and that he changed strings every day, so we'll have to keep assuming that he either used Fender or Ernie Ball strings until more information is uncovered.
Edit2:
Updated equipment list to reflect new findings. He was actually using D'Angelico strings rather than Ernie Ball as thought previously.
Edit3:
Cleaned up broken image links and some more info clarification.